11 March
Reminiscence of Hong Kong by the Brush: A Celebration of the 100th Birthday of Professor Jao Tsung-i" (Selected Artworks II)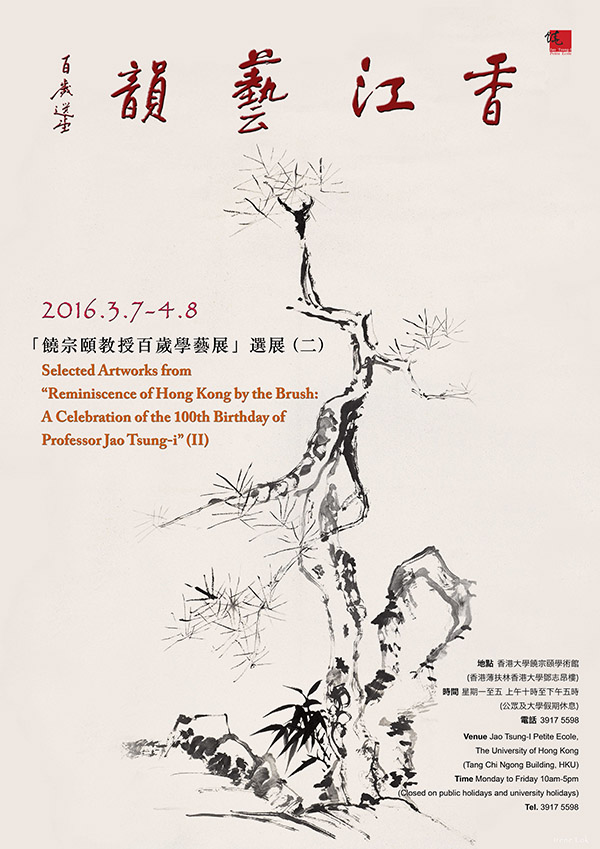 To celebrate Professor Jao Tsung-i's 100th Birthday, Reminiscences of Hong Kong by the Brush:
A Celebration of the 100th Birthday of Professor Jao Tsung-i, organized by the Home Affairs Bureau, was held at the Central Library on December 2015. The exhibition was crowned with great success. Jao Tsung-I Petite Ecole, The University of Hong Kong has selected a dozen or so artworks to be displayed at the Petite Ecole, providing the public with the opportunity to appreciate these works again.
The main them of part II is Artistic Collaborations. Professor Jao resettled in Hong Kong in the late 1940's. He was mainly engaged in teaching and other academic activities, and painting and calligraphy were only his pastime. His artistic circle of friends included Peng Ximing, Xiao Lisheng, Wan Yipeng etal, who always met and hold painting parties when they were in mood. Others artists he had collaborated with included Zhao Shao'ang, Yang Shanshen, Ding Yanyong, Huang Junbi, Feng Kanghou, Chen Yushen et al. Their works not only an show the close connection Professor Jao has with the local arts scene but also point out an important phenomenon in Hong Kong, and that is the Hong Kong-based artists have contributed tremendously to Chinese painting as an art form, regardless of their training, style, and points of view.
Date: 7 March – 8 April 2016 
Time: Mon to Fri 10am - 5pm (closed on public holidays & university holidays)
Venue: Jao Tung-I Petite Ecole, The University of Hong Kong (Tang Chi Ngong Building, HKU)
Telephone: 3917 5598