2 September
"The Divine Plan at Work" The 120th Anniversary of the Discovery of Oracle Bone Inscriptions cum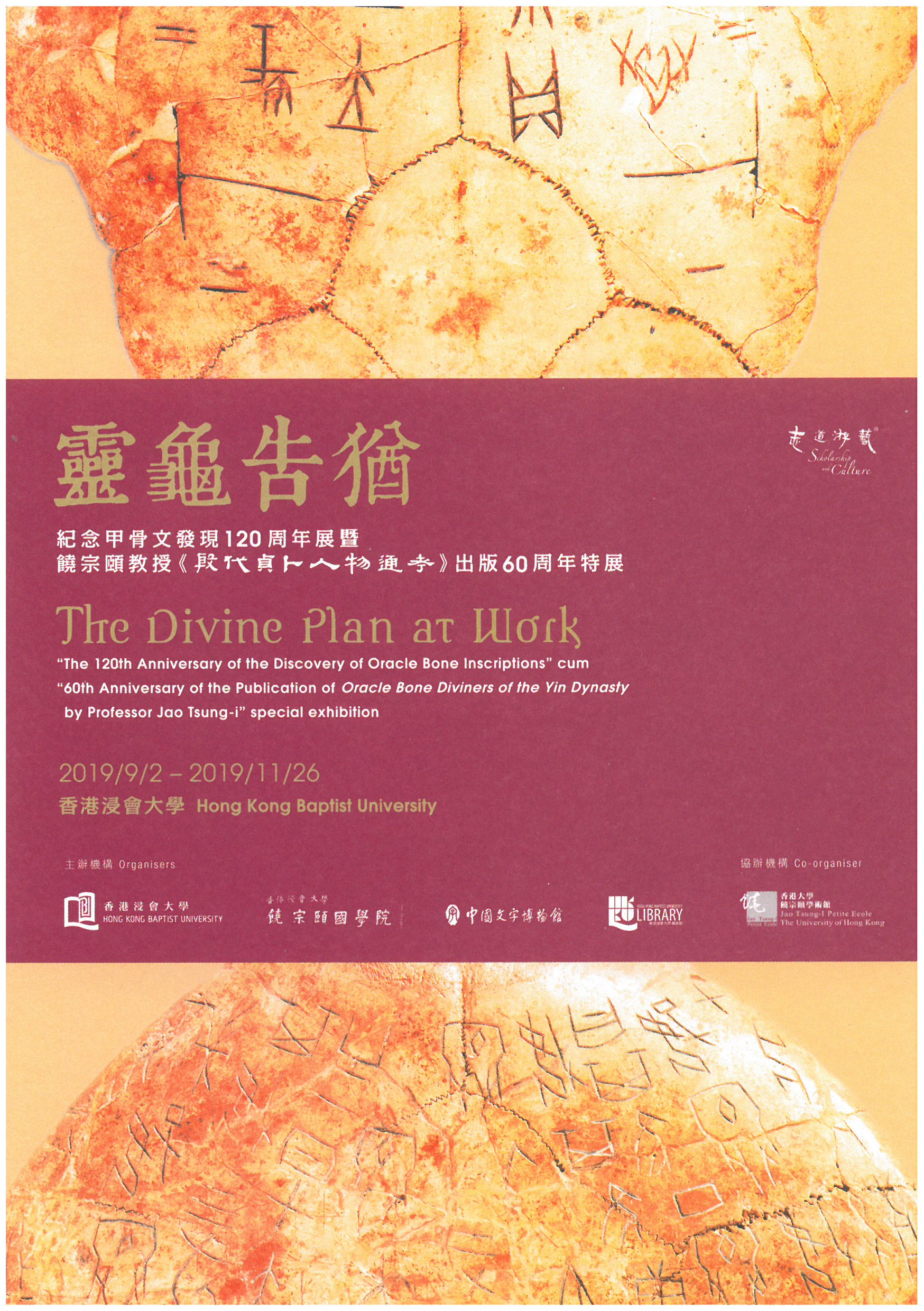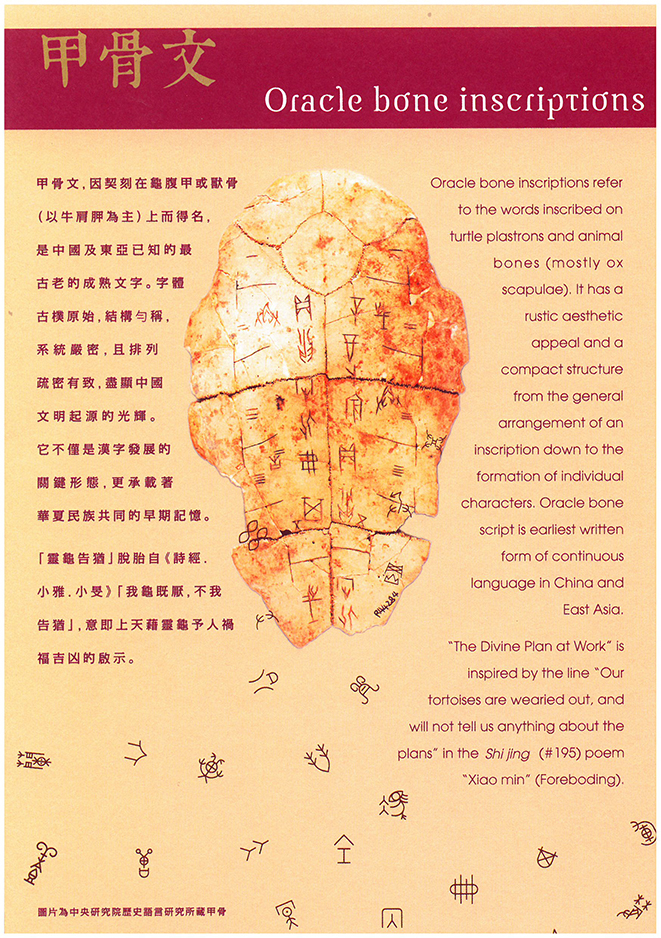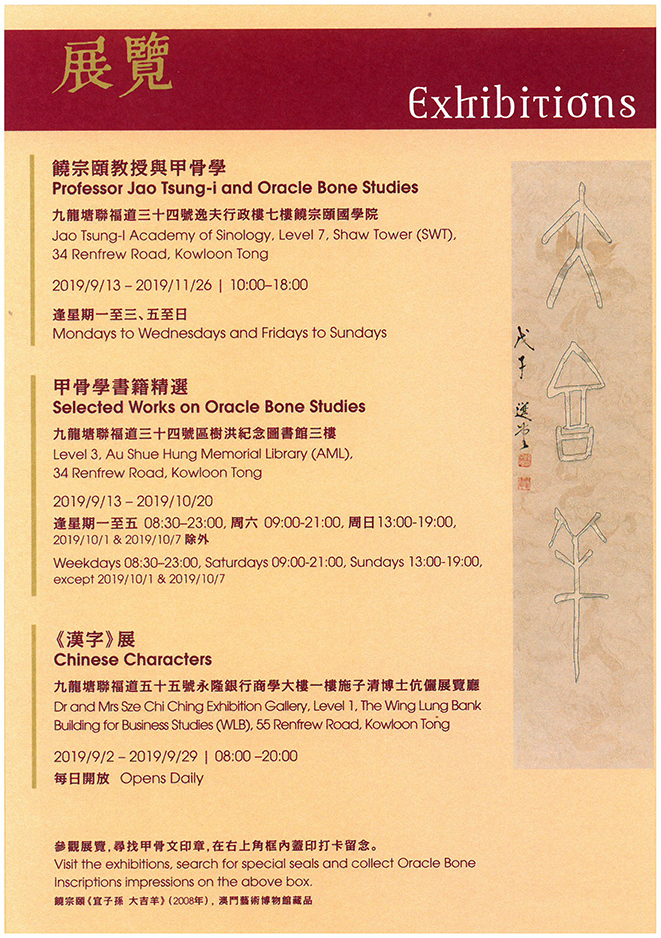 Oracle bone inscriptions (OBI) refer to the words inscribed on turtle plastrons and animal bones (mostly ox scapulae). Oracle bone script is earliest written form of continuous language in China and East Asia.
2019 is the 120th anniversary of the discovery of oracle bones and the 60th anniversary of the publication of Professor Jao Tsung-i's monumental work Oracle Bone Diviners of the Yin Dynasty (Yindai zhenbu renwu tongkao. Hong Kong University Press, 1959). To commemorate these two very special occasions in the field of early China studies, HKBU Jao Tsung-I Academy of Sinology will co-organize the fifth instalment of the "Scholarship and Culture" series: "The Divine Plan at Work" The 120th Anniversary of the Discovery of Oracle Bone Inscriptions" cum "60th Anniversary of the Publication of Oracle Bone Diviners of the Yin Dynasty by Professor Jao Tsung-i" special exhibition, together with the National Museum of Chinese Writing, Henan Province, P.R.C., Hong Kong Baptist University Library and Jao Tsung-I Petite Ecole, The University of Hong Kong.
The Academy will also organize an International Conference, the "JAS Oracle Bone Seminars" series, "Oracle Bone Script with a Twist" (Taster Day of Oracle Bone Calligraphy), oracle bone calligraphy competition for secondary school students, "ABC of Oracle Bones" workshop for primary school students and etc.

3 Exhibitions at Hong Kong Baptist University:
1) Professor Jao Tsung-i and Oracle Bone Studies
Jao Tsung-I Academy of Sinology, Level 7, Shaw Tower (SWT), 34 Renfrew Road, Kowloon Tong
2019/9/13 – 2019/11/26 | 10:00–18:00
Mondays to Wednesdays and Fridays to Sundays
2) Selected Works on Oracle Bone Studies
Level 3, Au Shue Hung Memorial Library (AML), 34 Renfrew Road, Kowloon Tong
2019/9/13 – 2019/10/20
Weekdays 08:30–23:00, Saturdays 09:00–21:00, Sundays 13:00–19:00
3) Chinese Characters
Dr and Mrs Sze Chi Ching Exhibition Gallery, Level 1, The Wing Lung Bank Building for Business Studies (WLB), 55 Renfrew Road, Kowloon Tong
2019/9/2 – 2019/9/29 | 08:00–20:00 Opens Daily

Enquiries: 3411 6655 / hkbujas@hkbu.edu.hk