5 October
Moonlight over the Lotus Pond: Exhibition Series of Lotus Paintings by Professor Jao Tsung-i: (I) Circular Fans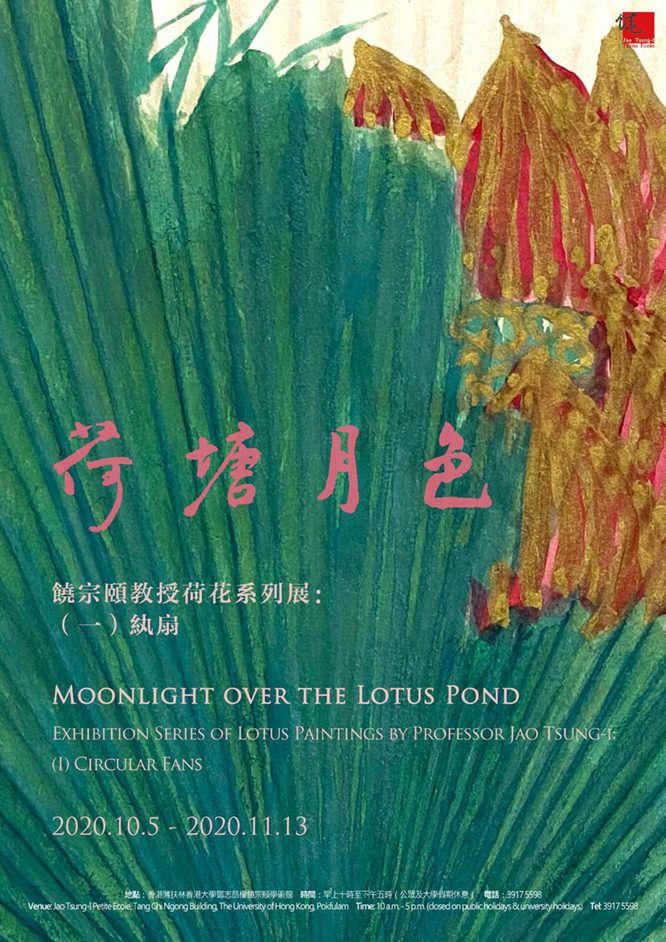 Moonlight over the Lotus Pond: Exhibition Series of Lotus Paintings by Professor Jao Tsung-i: (I) Circular Fans
In Professor JaoTsungi's later years, "lotus" was the most significant topic in his paintings. Professor Jao said that he liked to paint lotus flowers as they represented the spirit of "bearing" and "shouldering responsibility." He believed that the development and advancement of traditional Chinese culture should be the responsibility of modern Chinese intellectuals. Therefore, all his lotus paintings depict the spirit of prosperity and vitality.
The exhibition series features a wide variety of artworks with the topic of lotus flowers by Professor Jao, including epigraphic lotuses, lotus on folding fans, lotus on circular fans, lotus albums, lotus paintings in Dunhuang style, and so on. Through this series, we hope that not only will art lovers be able to see how Professor Jao developed the subject of lotus as an important topic in Chinese bird-and-flower paintings, but also how he used a variety of materials and techniques to promote Chinese paintings and made it an essential part in the art field of the world.
This series of exhibitions began after the MidAutumnFestival, and they are thus entitled "Moonlight over the Lotus Pond" by using the title of the famous prose by ZhuZiqing during the era of the May Fourth Movement.
----------
Exhibition Series of Lotus Paintings by Professor Jao Tsung-i (I): Circular Fans
The first theme of the exhibition series is Professor Jao Tsung-i's lotus flowers on circular fans.
Painting lotus on circular fans dates back to the Song dynasty. Many circular fans from that period of time exist today were painted with lotus flowers. However, circular fans were not used for fanning but keeping dust off the face; therefore, circular fan was also called "face shield." Until the Qing dynasty, Shanghai School painters such as RenYi, WuChangshuo, PuHua, and other Epigraphic artists occasionally produced such works. Professor Jao, nevertheless, consciously made the creation of lotus circular fans a significant part of his artworks.
----------
Exhibition Period: From 5 October to 13 November 2020
Opening Hours: 10 a.m. to 5 p.m., Monday to Friday (Closed on public and university holidays)
Venue: Jao Tsung-I Petite Ecole, Tang Chi Ngong Building, The University of Hong Kong, Pokfulam, Hong Kong
Enquiries: +852 3917 5598