21 April
HK$1 million donation to support the translation of Professor Jao Tsung-i's scholarly works @HKBU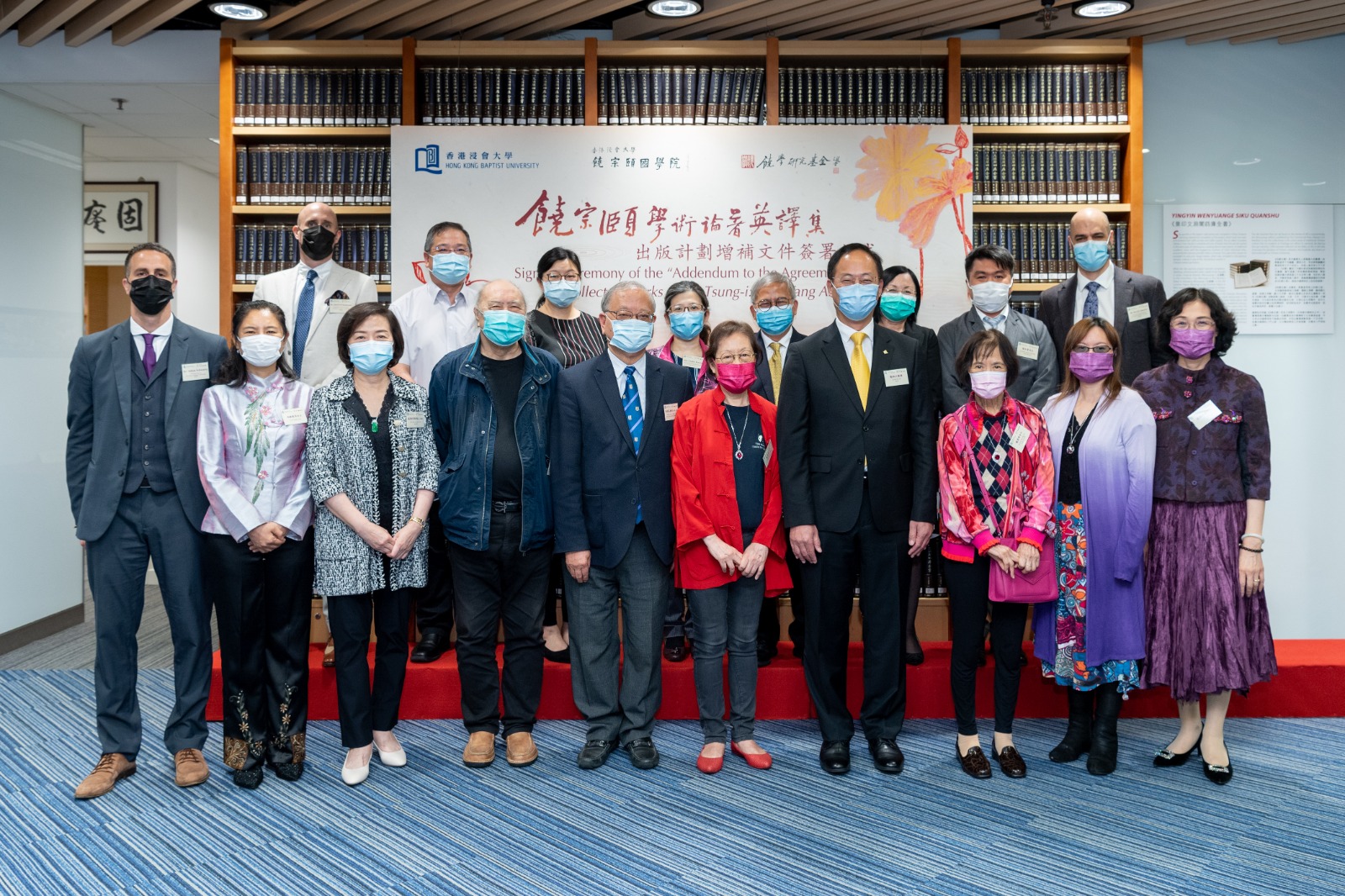 JSF in support of the operation of the Collected Works of Jao Tsung-i: XuanTang Anthology, a project launched by the Jao Tsung-I Academy of Sinology at HKBU (the Academy) that translates Professor Jao's scholarly works into English, HK$1 million donation will be sent to Hong Kong Baptist University (HKBU) in 2021.
In support of the project, a generous donation of HK$2.5 million have sent by the Jao family and JSF in 2019. Together with the additional donation, the Jao family and JSF have offered their resounding commitment to the project with a total of HK$3.5 million in funding.
Collected Works of Jao Tsung-i: XuanTang Anthology is the first-ever project to translate Professor Jao's scholarly works, and it aims to promote the wider circulation of the works and extend the influence of Professor Jao's scholarship, thereby further consolidating the international status of "Jao Studies".
The Addendum Signing Ceremony was held on 16 April at HKBU, with the agreement signed by Professor Lee Chack-fan, Chairman of the Management Board of The Jao Studies Foundation, and Professor Alexander Wai, President and Vice-Chancellor of HKBU. Ms Angeline Yiu and Ms Veronica Yiu, Permanent President and Permanent Administrative Director respectively of The Jao Studies Foundation, witnessed the signing.
In his speech, Professor Lee Chack-fan said that arts and cultural exchange is one of the focuses of the future development of Hong Kong according to the 14th Five-Year Plan. The translation project is a meaningful initiative which will greatly enhance academic and research exchange. Professor Lee also expressed his appreciation to the Academy for its great contributions to the project.
In his vote of thanks, Dr Adam Schwartz, Associate Director of the Academy, expressed his gratitude to Professor Jao's family as well as the Chairman and members of the Management Board of the Foundation for their support. He said that the translation project has steadily progressed since its establishment two years ago. "Even though the world has been brought to a halt and people's daily lives have been greatly affected by the pandemic, we are grateful that our translation team has kept up the spirit," he said. 
"In the coming years, our team will strive to complete the translation with the goal of achieving readable, reliable and authoritative translations. In addition, we have decided to expand the project by recruiting more young talent locally and abroad to translate works in other research areas in which Professor Jao wrote extensively and introduced new ideas," he added.
The project selects and translates a wide range of topics from Chinese into English in fields as varied as the study of oracle bone inscriptions and excavated manuscripts, ancient cosmology, classical literature, discourses on dynastic legitimacy and the transformative power of rituals and music, and Dunhuang studies.
(Source: Hong Kong Baptist University)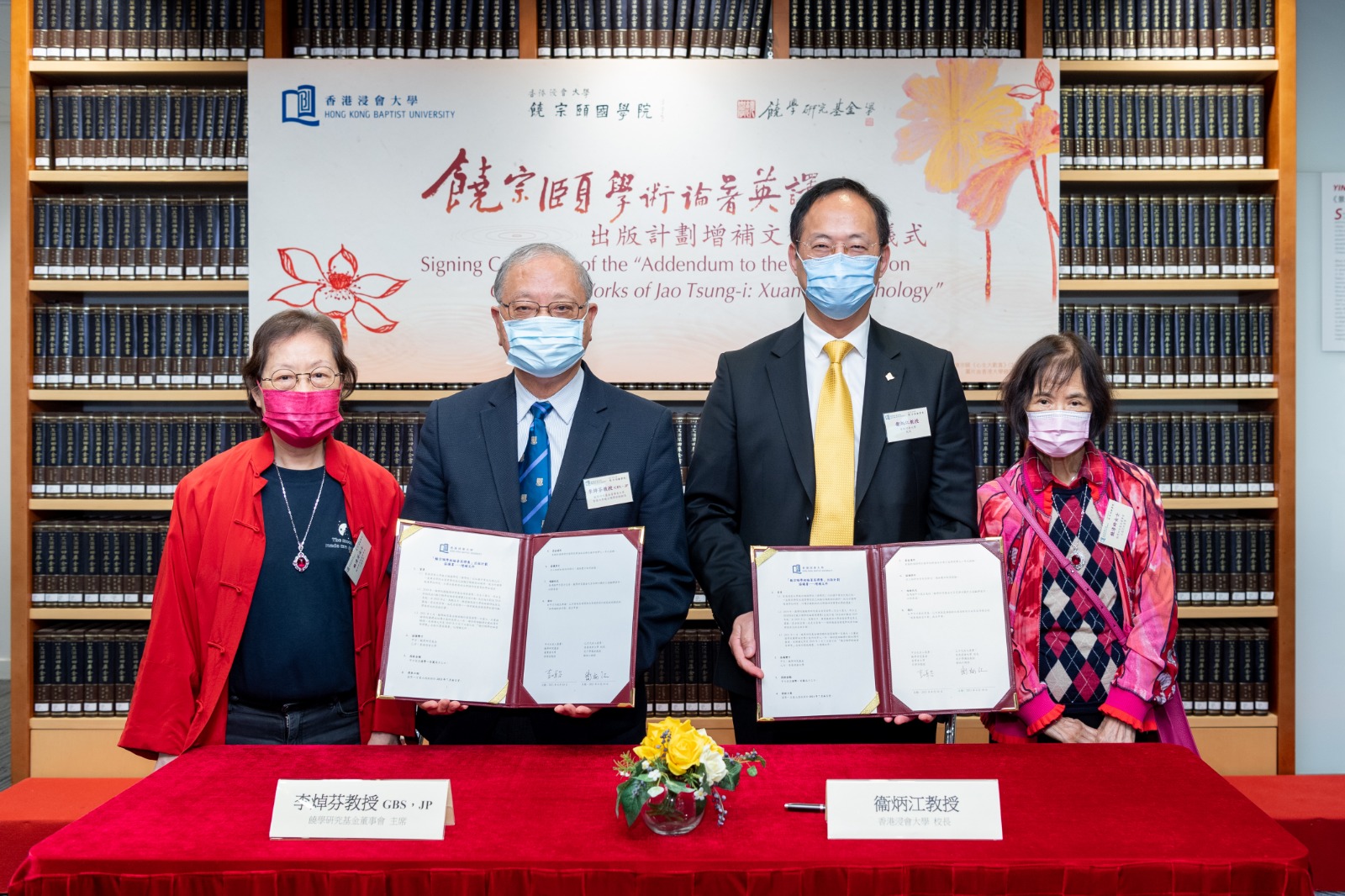 Prof. Lee and President Wai signed the agreement under the witness of Ms. Angeline Yiu (left) and Ms. Veronica Yiu (right)
(Guests and HKBU representatives attending the ceremony included Professor Jao's family members Dr. Tang Wai Hung and Ms. Michelle Cheong; Mrs. Mary Suen and Mrs. Susan So, BBS, Honorary Permanent Presidents of the HKBU Foundation; Mrs. Fung Bao Junping, Chairman of the Fung Sun Kwan Chinese Arts Foundation; Mr. John Ng Chor Yuk and Ms. Candy Kwong, General Director and Vice Bureau Chief respectively of the Soka Gakkai International of Hong Kong; as well as Mrs. Lily Chan, Director of University Advancement and Secretary-General of the HKBU Foundation.)