8 October
Second Series of "Scholarship and Culture" - Exhibition of Manuscripts, Calligraphy & Paintings by Modern and Contemporary Chinese Writers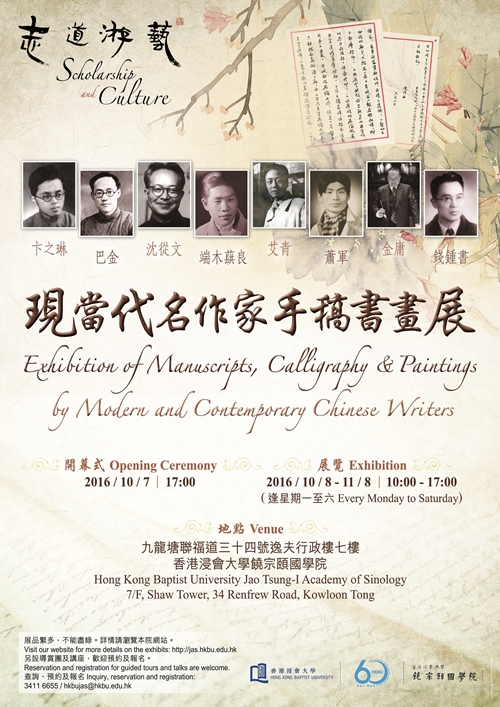 With the "Amalgamation of scholarship and art" masterfully achieved by Professor Jao and the Confucian maxim of "Setting your mind on the Way and immersing yourself into arts" in mind, JAS is going to organize a series of activities around the theme of "Scholarship and Culture" for the second year. The activities aim to showcase the rich diversity of Classical Learning while echoing the teaching of Confucius.
"What better way to read a man's character than through his handwriting?" as the old saying says. This fall the academy will hold an exhibition of manuscripts, calligraphy and paintings of famous Chinese writers, poets, scholars, translators and calligraphers, including Master of Sinology Professor Jao Tsung-i, acclaimed martial arts novelist Jin Yong and the widely admired intellectual figure Shen Congwen, offering a rare chance for the public to have a close look at the invaluable manuscripts and artwork and glimpse into the minds of the scholarly and literary icons.
Time
7 October to 8 November, 2016
Every Monday to Saturday, 10:00-17:00
Venue
Hong Kong Baptist University Jao Tsung-i Academy of Sinology
7/F, Shaw Tower, 34 Renfrew Road, Kowloon Tong
For details, please refer to Chinese Version.